As people work remotely or dodge crowded health clubs, the home gym has become a top fitness trend — one that's likely to stick around, says Dr. Mark Mariani. Like many during the pandemic, the chief medical officer and vice president of Retail Health for MultiCare Health System pumped up his own fitness space at home to sweat it out.
"Over the years, our basement has slowly evolved into a home gym, and it's become even more important for the whole family during the pandemic," he said.
When his three growing boys took an interest in weightlifting and working out, they added more equipment, including a weight setup, racks and a Peloton. "It's much easier to get that quick workout in rather than having to drive somewhere."
If home is where your health is these days, make sure you create a safe and motivating fitness space.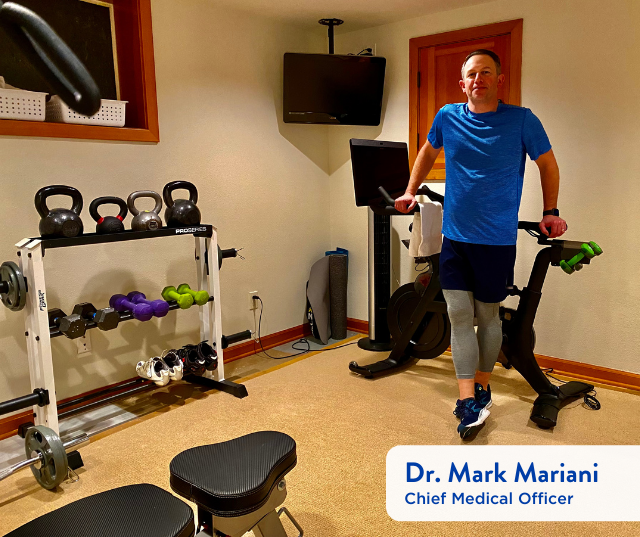 Is a home gym a good idea?
As a sports medicine physician, Dr. Mariani knows well the advantages of regular physical exercise.
"The benefits are endless," he said. "For starters, exercise helps maintain a healthy weight, reduce your risk of heart disease, diabetes and other chronic conditions, and lifts your mental health and mood."
A home gym is a convenient and effective way to reap those rewards. Here's why:
Promotes healthy habits. The Centers for Disease Control and Infection (CDC) recommends adults get at least 30 minutes of moderate-intensity exercise a day, 5 days a week, combined with 2 or more days of muscle-strengthening activities. When your health club is at home, you're more likely to workout consistently and achieve your health goals. Even 10-minute micro workouts — easy to do when your gym is down the hall — quickly add up.
Open 24/7. Life is busy, which sometimes makes it tough to fit in a workout. Which sometimes means workouts don't happen. A home gym makes it easy to make time, day or night. (Not that we encourage 2 am workouts. Good sleep is important, too. Do you get enough?)
Personalized for your specific needs and goals. Whether you're aiming for a 10K PR or looking to improve your general health, you can customize your space for your workouts.
You're in charge of cleaning and disinfecting. Sure, we're supposed to wipe down the barbells and elliptical at the gym after each use, but…

Where is the best place in my house for a gym?
Depending on your space and fitness goals, a dedicated workout area could range from 10 square feet for a Pilates mat, stationary bike or treadmill, to 200+ square feet for a multi-station setup.
If you have room in your home to spare, consider these locations:
Basement. If your house has a lower level, you may have a chunk of space that could be easily converted into a home gym.
Garage. If space allows where your cars live, the garage is an excellent spot for a gym setup. Added bonus: You can lift the doors to let in fresh air.
Home office. If you've set up a workspace during the pandemic, you can easily divide the space to accommodate your home gym. Store smaller items, like weights, bands, mats and towels, in drawers, closets or bins.
Unused bedroom. Jackpot! An extra room is an ideal spot for a home gym. You can close the door for privacy (and safety if there are small children in the house), use the closet or shelves to store equipment.
Shared living space. If space is tight, you can easily carve out a workout nook in the corner of your living room or bedroom. Use a decorative screen to mask equipment, and store barbells, bands and other small equipment in baskets or an ottoman with storage space.

What essentials do I need in my home gym?
Once you select your space, decide what equipment and activities will work best in it. If you have limited space, here are some recommendations from the American College of Sports Medicine:
Stability balls to strengthen muscles, improve balance and increase stability.
Resistance bands for a single-joint and multi-joint resistance exercises. Bands can also be used for stretching and mobility exercises.
Kettlebells (or dumbbells) for total-body strength and resistance training.
Yoga mats for yoga, Pilates, stretching and mobility.
Foam rollers to break up adhesions, decrease soreness and promote blood flow.
If you're looking for a cardio workout, consider adding some high-quality aerobic equipment such as:
Treadmills
Stationary bikes
Rowing machines
Making the case for Peloton
Dr. Mariani has done some sort of spinning or cycling over the last 20 years. He admits the Peloton bike and at-home membership adds a degree of fun and competition that's hard to get elsewhere. "Coupled with the data it provides, I can be competitive with myself and others," he said. "It really makes exercising fun."
He also likes that Peloton offers a range of classes beyond just spinning. "I've been impressed with their strength and core programs, which provide much-needed diversity to a workout program."
Be aware. Large fitness machines pose big dangers for little kiddos. According to the National Electronic Surveillance System, nearly 21,000 children in the U.S. were treated in ERs for injuries related to home exercise equipment in 2019 alone. If you have small children at home, take steps to ensure there are safe:
Do not set up home gym equipment in areas where children regularly play.
Always supervise young children around equipment.
Unplug equipment when not in use.
If a safety key is required to operate a piece of equipment, remove and store the key in a separate, secure location.
If possible, install a lock on the workout room.
In addition to equipment, you'll also want to include these safety essentials:
A mirror to check your form while exercising
Good lighting.
Flooring that provides cushioning for your joints, such as padded carpeting, foam or rubber floor tiles or a customized rubber floor mat.
A fan for spaces with poor air circulation, such as basements or attics.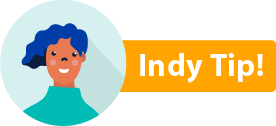 You can still get a good cardio workout at home without a big piece of equipment. A jump rope, or weighted jump rope for a more intense workout, takes up little space.

How can I prevent injuries when exercising at home?
"As a sports medicine physician, I treated a lot of exercise-related injuries," Dr. Mariani said. "Most were caused doing too much, too soon or exercising beyond one's limits. It's important to challenge yourself with exercise — that's how gains are made — but you need to be smart about it."
Here are a few tips to prevent injuries when using your home gym:
Know your equipment. Carefully read and follow manufacturer's assembly and installation instructions. Familiarize yourself (and follow through with) routine maintenance. YouTube is a great resource for instructional videos on equipment setup, use and upkeep.

Certain equipment may require extra care. For instance, two popular home-gym features right now are doorframe pull-up bars and door gym pulleys. Before installing or using, check weight limits, ensure your doorframe trim is secure and confirm your door is compatible with your equipment.

Ease into it. Choose a fitness routine or virtual class appropriate to your level. If you're just starting out, start slowly. Gradually build up intensity, duration and frequency.



Warm up and cool down properly. Regardless of your fitness level, warmups are a must. Stretch, walk briskly or jog in place for 5 to 10 minutes to get blood flowing to muscles and slowly raise your heart rate. After your workout, take time to stretch your upper and lower body before hitting the shower.

Practice proper form. Whether your lifting, riding or rowing, good form and posture will help prevent injuries and make for a more effective workout.
"Fortunately, I can work out with our boys most of the time and show them how to safely lift," Dr. Mariani said. "We always stress the need for spotting and to know your limits. That's also reinforced in their school PE classes, which is great."
Maintain a safe space:

Keep a towel handy to wipe down wet surfaces.
Keep floors free of tripping hazards.
Clean and disinfect equipment after each use.
Wear the right shoes. Make sure shoes fit properly and are appropriate for the activity you're doing. Replace worn footwear.
Keep the water flowing. Drink plenty of water before, during and after your home workout. The 8-8-8 formula is a good general rule: 8 ounces 20-30 minutes before exercising; 8 ounces every 10-20 minutes during your workout; 8 ounces within a half hour of completing your working.
Let your body recover. Muscles need time to rest and recuperate. Take a day off from the heavy lifting or intense cardio and opt instead for a walk or yoga.
"Recovery is critical to injury prevention, especially as you age," Dr. Mariani said. "It's a hard lesson I've had to learn a few times."

Make Indigo Urgent Care your home base for strains and sprains
Even when you take every precaution to exercise safely — and create a safe place at home to do it — injuries may happen. Fortunately, Indigo Health is here to help.
Our refreshingly friendly providers are available 8 am to 8 pm every day to treat sprains, strains, bruises and other minor injuries and illnesses. And all our Indigo locations offer digital X-ray services to confirm or rule out a minor fracture.
And just like your home gym, Indigo Online Care is available 24/7 to make care even more convenient for you and your family.