Headache, body aches, fever. When COVID symptoms hit, you know the drill. You reach for your at-home test, take a simple nose swab, set your timer and within minutes you've got your answer, right?
What if your symptoms point to COVID, but your test result indicates you're in the clear?
While positive results from at-home COVID tests are highly reliable, recent trends indicate they can also yield false negative results, meaning you may have COVID even when your test says you don't. According to research published in the Journal of the American Medical Association (JAMA), false negatives could be as high as 50 percent.
With another virus variant in the mix and COVID cases again on the rise, inaccurate test results can be a huge problem.
PCR tests vs. antigen tests: What's the difference?
There are two types of tests that are used to tell if you are infected with COVID-19:
PCR (polymerase chain reaction). This laboratory method tests for the presence of the virus's genetic material. A PCR test can detect even the smallest traces of the virus and is the most accurate and reliable test for COVID.
A PCR test must be done by a health care provider, who collects a sample from the back of your nose and throat and sends it to a lab for processing. Because the sample is analyzed in a lab, PCR testing can sometimes take hours to perform, although some are faster. (Indigo offers rapid PCR testing and same-day results.)
Antigen. Often referred to as a rapid test, this at-home or anywhere testing option can detect bits of proteins, or antigens, that are on the surface of the virus. Unlike the PCR test, the antigen test can only determine if you have the active virus in your body. Antigen tests are most useful for quick detection of COVID or to determine if someone is still infectious.
Less invasive than a PCR test, antigen testing involves collecting a sample via a simple nasal swab. The swab is added to liquid and placed on a test strip. Within about 15 minutes, you have your result. If antigens are detected, a line appears on the test strip that indicates you are positive for COVID-19. If no antigens are detected, it means you're negative for the virus—in theory.
What can cause a false negative COVID test result?
At-home antigen tests are faster than PCR tests, which means you know within minutes if you have the virus. But they are also much less sensitive, which means there is a greater chance for a false negative result.
Here are a few reasons why:
Timing. The Centers for Disease Control and Prevention (CDC) recommends waiting at least five days after exposure to COVID-19 before testing yourself. If you take an at-home antigen test too soon, your viral levels may be too low to get an accurate diagnosis.
User error. At-home tests are easy to use, but that doesn't mean things can't go wrong. You may come up short on the amount of fluid you need or inadvertently contaminate the specimen.
Outdated tests. If you've stocked up on tests at home, you may have some that are past their best-by date. The older the test, the less reliable the results.
What if my COVID test is positive?
If you take an at-home COVID test and the result is positive, visit your nearby Indigo Urgent Care. Our team can confirm that you have COVID with a rapid PCR test. You'll get same-day results, sometimes in as little as 20 minutes.
Your test will also include a consultation with one of our friendly medical providers, which can be done in person at one of our convenient locations or from the comfort of your home via Indigo Online Care. You'll have the opportunity to discuss your symptoms, the testing process and treatment options.
Hospitalization for COVID is rare for people who are vaccinated. That doesn't mean you need to suffer through when COVID symptoms take you out of action. If you test positive for the virus, talk with your Indigo provider about paxlovid to lower your risk of severe symptoms or hospitalization. This highly effective antiviral treatment, once reserved only for high-risk or unvaccinated individuals, is now widely available and more accessible than ever. Talk with your provider about whether or not anti-viral medication, like paxlovid, is appropriate treatment for you.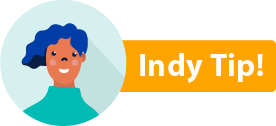 Skip the wait for COVID relief. If you need a prescription filled after your visit, ask your provider about Indigo prescription delivery. You can have your medication delivered to right to your home within a few hours for a flat fee of $10.
When should I get tested for COVID?
Don't take a chance with your health and the health of those around you. Accurate and reliable testing one of the best defenses to stop the spread of COVID.
Vaccinated or not, if you've been exposed to COVID or feel ill, it's a good idea to get a PCR test, even when an at-home test comes back negative. Indigo offers quick and reliable PCR testing and same-day results—sometimes in as little as 20 minutes.
Learn more about COVID-19 testing and schedule an appointment on our Indigo Urgent Care website. Our friendly providers are here to help. And our virtual assistant, Indy, is available 24/7 to answer your questions about COVID-19 symptoms, testing and services provided at our convenient locations.
You should seek immediate medical treatment if you or someone in your household has the following symptoms:
Trouble breathing
Persistent pain or pressure in the chest
New confusion or inability to wake up or stay awake
Bluish lips or face