As flu season arrives, it is becoming increasingly difficult to know if your sniffles and cough are just a cold, the flu or coronavirus. Don't leave yourself or your friends and family wondering. Decode your symptoms with the help from our symptom chart.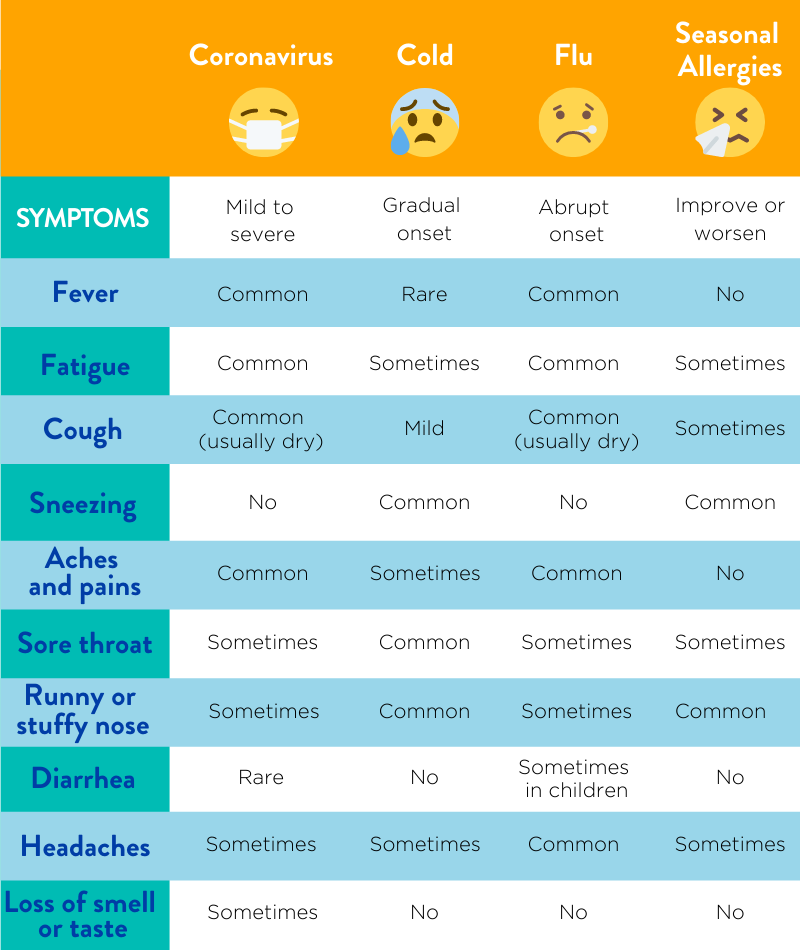 If you think it might be COVID-19
It's important to stay home as much as possible and avoid close contact with people outside your household. Anyone with any symptom of COVID-19 can be tested at Indigo Health. Tests are conducted by a medical provider in a safe, comfortable environment. We ask that you schedule an appointment in advance, if possible.
If you're experiencing more severe symptoms such as shortness of breath, chest pain or a worsening chronic medical condition, please seek care at your nearest emergency room right away.
If you think it might be a COLD
While there's no cure for the common cold, home remedies, over-the-counter medications and rest can significantly improve symptoms within a few days. If your cold symptoms last longer than 3 weeks or get worse over time, you should consider calling your doctor or walking in to Indigo Urgent Care.
If you think it might be FLU
If you do find yourself feeling the onset of flu symptoms, the team at your neighborhood Indigo Urgent Care can evaluate your cold and flu symptoms and, as necessary, prescribe medications that will help relieve your symptoms.
Getting a flu shot is the best way to prevent seasonal flu. The easiest way to schedule your flu vaccine is through your primary care provider, or local pharmacy.

It's also important to practice good health habits. Remember to wash your hands frequently. Try to get plenty of sleep, exercise regularly and eat nutritious foods.

Avoid close contact with people who are sick. Covering coughs and sneezes with a tissue can also help prevent the spread of germs.
If you think it might be ALLERGIES
Allergies can affect kids and adults, any time of the year. Symptoms are often accompanied by red, itchy eyes or a scratchy throat. Over-the-counter medications such as antihistamines or decongestants may provide some relief. If those don't work and allergies are keeping you up at night or causing discomfort, visit your local Indigo. We can help!