Just because Washington state's indoor mask mandate came to an end March 11 doesn't necessarily mean things feel back to normal. After two years of wearing an extra layer of protection to keep ourselves and others safe and healthy, it's normal for anxiety levels to go up as masks come off.
If you feel uneasy about going mask-less in public, there are some steps you take that may alleviate your mask anxiety and help you better cope with the (latest) new normal.

Why was the mask mandate lifted?
In February, the Centers for Disease Control and Prevention (CDC) announced that it was relaxing its mask guidance for communities considered to be at low or medium risk due to falling COVID cases and hospitalizations.
Following the CDC's new guidelines, Gov. Jay Inslee announced that Washington state's indoor mask mandate, one of the few left in the country, would lift in most places as of March 12. In general, masks are no longer required for those visiting or working in public places. This includes:
Schools, child care facilities and libraries
Restaurants and bars
Houses of worship
Gyms, rec centers and indoor athletic facilities
Grocery stores, businesses and retail establishments
Private businesses and governments can still set their own mask policies, so don't be surprised if your favorite coffee shop asks you to cover up. And as we've all learned over the last couple of years, guidelines may change again if COVID cases and hospitalizations surge. Learn more about Washington State Department of Health mask and face covering guidelines.

Why do I feel uncomfortable without a mask?
No-mask anxiety is a real thing. According to the American Psychology Association, nearly half of all Americans report feeling anxious about resuming in-person interactions.
Here are a few reasons why:
It's become a habit. A 2009 study published in the European Journal of Social Psychology concluded that the (sort of) magic number of days it takes to form a habit is 66. Multiply that by 11 and it's no wonder the thought of ditching your mask makes you squirm.
It makes you feel secure. Since the early days of the pandemic, masks have been our front-line of protection against COVID-19. Even when vaccines and boosters came on the scene, most health experts still recommended wearing a well-fitting, multi-layered face covering while indoors to prevent the spread of the virus. Then the CDC issued new mask guidance for vaccinated people that said most of the U.S. population can now remove their masks. Wait, what? It's not easy to loosen your grip on something that has felt like a security blanket for the last two years.
Without it, your social anxiety is worse. For people with social anxiety, fitting in is a big deal. Everyday interactions can bring about irrational anxiety, fear, self-consciousness and embarrassment. When most Americans were masked up, those who are nervous in public may have found some relief. With mask mandates lifted, they may be feeling even more anxious about being unmasked and around others.

What can I do if I feel anxious about not wearing a mask?
If you're feeling uneasy about taking off your mask, there are some steps you can take to alleviate some of your anxiety.
Understand the root of your anxiety. Anxiety is a feeling of fear, dread and uneasiness. It can cause a myriad of reactions, including sweating, restlessness, feeling tense and an elevated heart rate. It's no surprise the thought of going mask-less can evoke that dreaded "what if" feeling. After being told for two years that we need to mask up to keep ourselves and our loved ones safe, it's not easy to shift gears. Especially since COVID is still around and will be for the foreseeable future.
Trust the science. As COVID has evolved, so have the guidelines on how to protect yourself. Science recommended we wear masks to prevent the spread of the virus, and now science tells us vaccines and new mutations make COVID less dangerous to most people.
Get vaccinated and boosted. Vaccination is still the best protection against COVID-19. If you've received your vaccines and booster, your risk of getting seriously ill with COVID is minimal.
You do you. Much of what drives anxiety is breaking routine, according to clinical psychology experts. If you feel uneasy about the mask-free new normal, there's no reason to hit up a big indoor concert or bustling bar without a mask. Try dinner at an uncrowded restaurant or gather with a small group of friends. In other words, do what makes you feel comfortable and safe.
Keep it on. Just because the mask mandate has been lifted doesn't mean you have to take off your face covering. If wearing a mask makes you feel better, leave it on. Trust us…you won't be the only one.

When should I seek care for my anxiety?
If the thought of going mask-less is causing a level of stress or anxiety that interferes with your daily life, it may be time to talk with a professional health care provider. Indigo Online Care offers screenings for anxiety and depression for adults 18 and older.
Simply complete a quick questionnaire (typically 5-7 minutes) and get connected with a trusted Indigo Urgent Care clinician via video to talk about a care plan and treatment options—all from the comfort of home.
If you or someone you know has suicidal thoughts or behaviors, seek emergency treatment immediately. The National Suicide Prevention Lifeline (800-273-8255) is available to anyone in severe distress.

How do I help my child with their mask anxiety?
As school districts lift mask mandates, your kiddo may be feeling anxiety or other emotions as they deal with their mask-free school setting. Here are some ways to help them cope with the big adjustment:
Explain why. Be honest and open about why the decision has been made to lift mask requirements. Rely on the science behind the CDC decision, including current pandemic conditions and guidance from public health experts. It will help them understand what's happening, especially if they're not feeling safe.
Let them ask questions. With so much upheaval over the last two years, it's normal your child may be confused about this latest change, especially if some of their teachers and classmates continue to wear masks while others choose not to. Provide a safe space for kids to express how they feel, ask questions or talk about what they're hearing from their friends. Check in regularly to see how things are going during this transition.
Talk about respecting other people's choices. Help your child understand that it's not ok to bully, intimidate or single anyone out for their decision to wear, or not wear, a mask.
Ease them in, if needed. While some kids may be fine going without a mask right away, others may feel safer with them on. For anxious children, opt for a gradual transition. Let them go mask-less for short periods of time (a few minutes) in places where they feel safe. Slowly increase for longer periods in more crowded settings.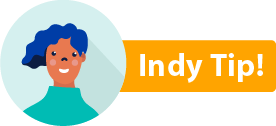 Masks are still an important layer of protection against the virus for children too young to be vaccinated and those with special health care needs.

When should I still wear a mask?
There are some places where mask mandates are still in effect. Across Washington state, face coverings are required on public transit (per federal requirements) and in all health care, long-term care and correctional facilities.
Health experts also recommend you should wear face masks if you:
Have compromised immunity or live with someone who does.
Are unvaccinated or spend time with people who are unvaccinated.
Live in or visit a high-risk area.
Have COVID symptoms or a positive test.
Have been exposed to someone with COVID.

Indigo Urgent Care is here (and masked up) for you
Whether you are excited or nervous about going mask-less, Indigo Urgent Care is here for you — and as committed as always to your safety. Masking is still required for staff, patients and visitors in all our locations.
Learn more about how we're keeping you safe when you visit Indigo.